Goals and Activities
FINELC: through networking we aim:
to strengthen European multilingualism by developing language and communication teaching.
to improve language learning and learning opportunities.
to develop evaluation practices and quality assurance by making use of the strengths and opportunities that can be achieved through co-operation.
to develop research-based learning methods and materials.
to promote internationalization in Finnish universities and beyond.
To develop its activities, FINELC has set a number of goals as a result of discussions between its strategic committee and Executive Group in 2012. The discussions were on development needs recognised and acknowledged by the Executive Group (strengths and weaknesses identified in a December 2011 Executive Group meeting). The need to develop FINELC further has emerged tangibly in recent years, specifically as a result of changes in the Finnish university system and the resultant pressure to change the position, tasks and operating culture of LCs.
The new goals pertain to FINELC's internal and external activities. Its goals for internal activities are activation of the entire FINELC network, its systematic and proactive management, promoting research that supports the development of teaching methods and materials, and quality evaluation using Finnish and international comparisons. Goals for external activities are enhancing awareness of FINELC, clarifying the position of LCs at universities, developing contacts with the business community, acquiring external funding, and becoming more international.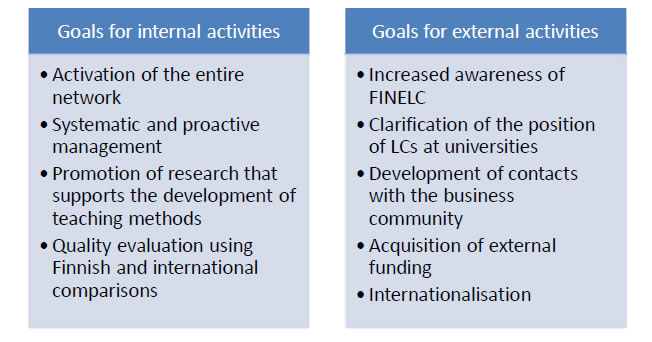 Internationalisation is an overarching objective of the Finnish higher education system. FINELC will also highlight this objective as a key development area. The pursuit of internationalisation throughout the higher educational system is of particular importance to LCs because it opens up new opportunities for the promotion of language and communication skills; teaching, language and communications expertise; multilingualism; and multiculturalism.
Development of research activities is central to the development of teaching methods and materials, which is a core activity for LCs. This in turn leads to the recognition of a need for an autonomous definition of research activities that are essential for LCs. It is important to achieve a shared understanding and to define the significance of research activities for the development of teaching methods and materials. To achieve these goals and spearhead objectives, it is essentially important that FINELC is managed in a systematic and proactive way. This need emerges thus organically as one of FINELC's spearhead objectives. To this end, the tasks and responsibilities of FINELC's Executive Group chair and vice chairs and the network's general management principles will be defined.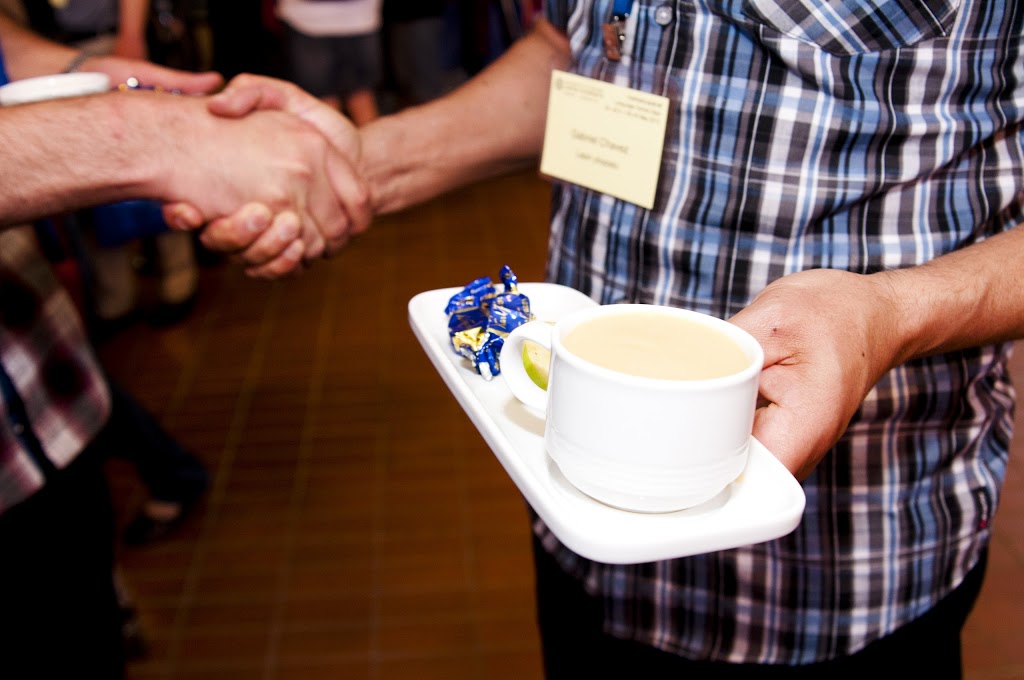 Photo courtesy of University of Lapland and Julius Chávez
Other activities
Language Centre Days, a two-day conference is held every two years in one of language centre belonging to FINELC. Normally about 250 teachers and administrative staff attend. You can find out more about our last Language Centre Days from the link below. The next time it will be held will be in 2019 in Helsinki.
Language Centre Days 2017 – Kuopio
Language Centre Days 2015 – Jyväskylä
Language centres annually organize a number of other events each year, including language-specific meetings with teachers or meetings aimed at administrative staff.